We provide specialized services for the expression and purification of recombinant proteins that have similar properties to our catalog products.
Facilities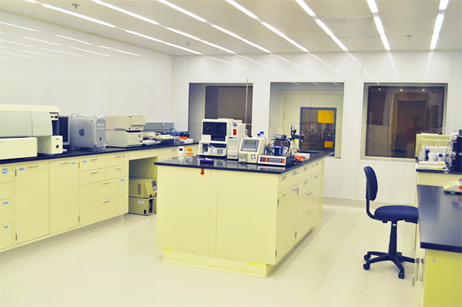 StemRD occupies a laboratory space that is certified by the FDA for GMP production of therapeutic peptides. It is also equipped with a state-of-the-art mammalian tissue culture system, as well as cell processing, ultra-centrifuge, ultra-filtration, FPLC, HPLC and LC/MS devices.
Services Provided
Expression in mammalian cells (transient and stable)
Expression in E. coli
Protein purification (conventional and proprietary methods)

Technology Platform
Expression in Human Cells
StemRD and its partners have developed a highly efficient process to express bioactive recombinant proteins in human cell lines. Since these cells are grown in serum-free, protein-free and chemically-defined media, products made by this process are xeno-free and have human-specific post-transcriptional modifications, such as glycosylation. Using this system, we have been able to produce a number of bioactive proteins that are critical for the growth and differentiation of stem cells.
Protein Purifications
We have developed unique and proprietary techniques for the purification of several stem cell factors that are difficult to purify by conventional chromatographic methods. We routinely check the purity and authenticity of our products by HPLC and LC/MS.
Biological Activity
We are experts in stem cell signaling pathways. We measure the biological activities of our products by using pathway-specific bioassays which are more selective and sensitive than other cell-based assays. Our products all have bona-fide bioactivity.

StemRD's Core Competence -- Download (5mb) PDF File
Warranties & Disclaimers: -- Download PDF File
Limited Warranty
1. StemRD Inc. warrants that its Products conform to the specifications contained in Product Sheets issued by StemRD Inc. Customer's sole and exclusive remedy (and StemRD's sole and exclusive liability) under this limited warranty shall be replacement of the defective Products by StemRD. Any disagreement on the specifications of the Products shall be judged by an independent third party. Customers agree to seek resolutions and remedies of any dispute in a good faith with through arbitration.
2. StemRD Inc. reserves the right to make changes in design, production, manufacture, or characteristics of the Products or to improve on the Product at any time and in any way, without incurring any obligations to replace or modify any Products previously sold.
3. Under no circumstances shall StemRD's liability to Customer exceed the amount paid by Customer for the Products to StemRD. StemRD Inc. will bear all reasonable shipping costs if the Products are replaced pursuant to this warranty. This warranty does not apply to any defect or nonconformance caused by (i) Customer's use of the Products for a purpose or in a manner other than that for which they were designed or that is permitted, (ii) the failure by Customer to follow Product Sheet for use, storage, and handling of the Products; or (iii) as a result of any other abuse, misuse or neglect of the Products by Customer. This warranty applies only to Customer and not to third parties. This warranty is not assignable.
4. TO THE FULLEST EXTENT PERMITTED BY APPLICABLE LAW, STEMRD DISCLAIMS ALL OTHER REPRESENTATIONS, AND WARRANTIES, EXPRESS OR IMPLIED, WITH RESPECT TO THE PRODUCTS AND DATA, INCLUDING BUT NOT LIMITED TO, ANY IMPLIED WARRANTIES OF MERCHANTABILITY, FITNESS FOR A PARTICULAR PURPOSE OR NON-INFRINGEMENT. CUSTOMER'S SOLE REMEDY FOR BREACH OF WARRANTY ARE STATED ABOVE.
5. Any action by Customer for StemRD's s breach of this limited warranty must be commenced within 12 months following the date of such breach. Notwithstanding such 12-month period, within 3 days of reanimation of the Product but prior to the expiration date of the Product as listed on its label, Customer must notify StemRD Inc. in writing of any nonconformity of the Products, describing the nonconformity in detail and providing the results of the viability assays; otherwise all Products shall be conclusively deemed accepted without qualification. Customers must follow the instructions contained in Product Sheet to request replacement Product based on breach of the above limited warranty.
6. Customer acknowledges that the Products are subject to U.S. export control laws and regulations. Customer represents and warrants that it is the ultimate end-user of the Products, and further represents and warrants that it will not knowingly sell, export, re-export, transfer, divert, or otherwise dispose of the Products (including other materials or goods derived from or based on the Products) to any other destination, entity, or person without the prior authorization of any relevant U.S. federal government agency and StemRD. Customer represents and warrants that it will not use the Products for any purpose prohibited by the laws or regulations of the United States and/or other government authorities to which Customer is subject without the prior authorization from any government entity whose laws and regulations may apply to the use of the Products.
Limited Liability
TO THE FULLEST EXTENT PERMITTED UNDER APPLICABLE LAW, STEMRD INC. SHALL NOT HAVE ANY LIABILITY FOR INCIDENTAL, COMPENSATORY, PUNITIVE, CONSEQUENTIAL, INDIRECT, SPECIAL OR OTHER SIMILAR DAMAGES, HOWEVER CAUSED AND REGARDLESS OF FORM OF ACTION WHETHER IN CONTRACT, TORT (INCLUDING NEGLIGENCE), STRICT PRODUCT LIABILITY OR OTHERWISE, EVEN IF STEMRD INC. HAS BEEN ADVISED OF THE POSSIBILITY OF SUCH DAMAGES. CUSTOMER UNDERSTANDS THAT ANY RISKS OF LOSS HEREUNDER ARE REFLECTED IN THE PRICE OF THE PRODUCTS AND THAT THESE TERMS WOULD HAVE BEEN DIFFERENT IF THERE HAD BEEN A DIFFERENT ALLOCATION OF RISK.
ALL StemRD Products are covered by the Expressed Limited Warranty and Liability Terms
For a printable copy of our Limited Warranty and Liability Terms click HERE
How to Order?